A stunning collection of gems which lay forgotten in a bank vault for 30 years has been unearthed – and is set to sell for more than £100,000.
The emeralds, sapphires rubies and diamonds were locked away in a private bank-vault for safe-keeping in about 1980 but were then forgotten about.
It wasn't until the family's affairs were being sorted out recently that the vault was opened.
The beautiful hoard of jewellery is thought to have been amassed at the start of the 20th century by an unknown woman owner.
After her death the 30 or so necklaces, earrings and brooches were handed down through her family, who wish to remain anonymous, based in the West Country.
The stunned family have now put the jewellery up at auction. Although the collection has an estimate of £100,000 it is likely it will go for much more.
The collection's star item include a 'Belle Epoque' emerald and diamond necklace, with 15 graduated sections, and a matching pair of earrings, worth £30,000.
One Victorian necklace, set with rubies and diamonds, is set to fetch £20,000, while a Georgian ruby and diamond brooch could make in excess of £10,000.
Although not a precious stone and therefore not as valuable, one of the more eye-catching pieces is a beautiful garnet necklace.
Miranda Bingham, of Lawrences' Auctioneers in Crewkerne, Somerset, said it was the most exciting collection of jewellery and gems they had ever come across.
She said: 'It is remarkable that such pieces could have been left for so long in a bank vault.
"We don't know for sure where the pieces came from originally. But they are the most exquisite examples of their kind.
"Whoever amassed this collection must have bought it from the very best places and from people who knew what they were doing.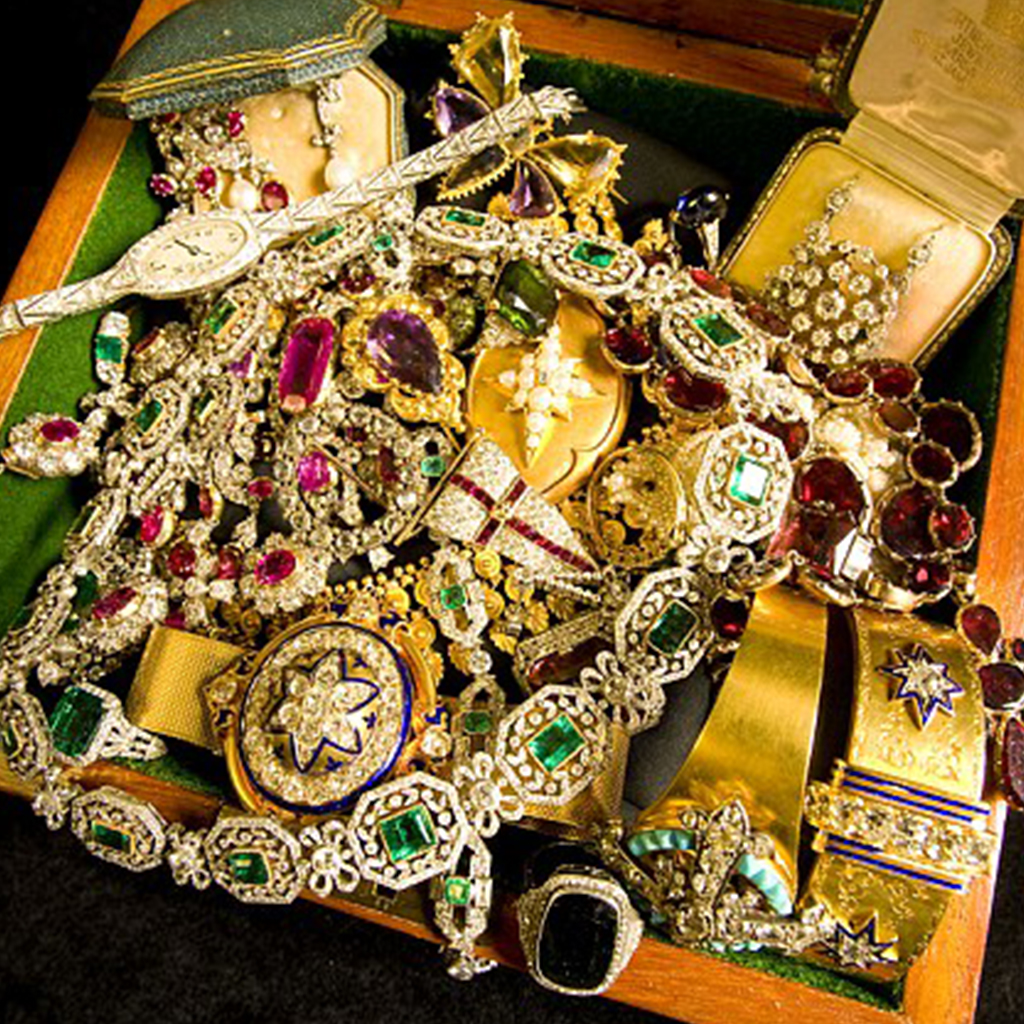 "We understand the collection was left in the bank vault 30 years ago.
"The current owner had forgotten about them completely until recently, when the vault was opened.
"The family had no idea how much they could be worth. We hope they will be in for a very pleasant surprise after the sale.
"The market for gold and diamonds is very bouyant at present and exceptional rubies and emeralds like this will attract international attention."
The auction takes place next month.